touring & backcountry
Posted by:
Turfty
at 22.07hrs on Mon 8th Jan 18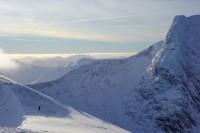 • View Photos •
:: Tour Route(s) or Location Skied/Ridden
Climbers gondola, then down to and across Alt Daim by ice bridge and up to Carn Beag Dearg and on to Carn Mor Dearg. Dropped down into the top of Coire Giubhsachan and up to Aonach Beag col (skis off and kicking steps most of the way up in deep crusty snow).
:: Weather Conditions
Beautiful day though started to clag in a bit mid-afternoon.
:: Snow Conditions and Distrubtion
Variable
Posted by:
Apex177
at 22.24hrs on Tue 18th Apr 17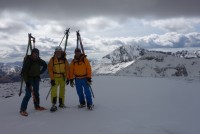 • View Photos •
:: Tour Route(s) or Location Skied/Ridden
We were missing a last day out with the end of the winter coming early so we decided to go hunting for snow anyway. We had a fantastic day out though it was a long way to the snow. We carried from the Nevis Range gondola station round to Coire an Lochain. We had in mind to ski the gully south from the col between Stob an Chul Choire but there was no snow. We enjoyed a boot up the ridge beside Summit Gully and stunning views from the summit. Funnily enough we had the slopes to ourselves for the return through the ski area.
:: Weather Conditions
Dry, clear and mainly sunny
:: Snow Conditions and Distrubtion
The snow for the downhill was great. We could have done with more early in the day!
:: Skiers/Riders
Eagle Ski Club Party
Posted by:
Freeheel
at 23.10hrs on Thu 9th Apr 15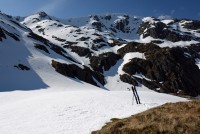 • View Photos •
:: Tour Route(s) or Location Skied/Ridden
Aonach Beag East Face, Kenny Biggin said ?there is some epic riding to be had and new adventures await?. What he didn?t say though was how you can get there, enjoy it and get back as it?s a fair way off with 500m - 600m of descent then clearly there?s a bit of a climb out too even making full use of the ski lifts.
I figured an overnight camp might be the best way to crack it therefore particularly for a first visit and having been tormented by the distant snows round there for years I figured the time and weather looked about right setting out on 8th April from top of Nevis Summit tow where it was skins on to the summit and skins off to the Aonach Beag col. Ski?s on backpack then to the top of Aonach Beag which unfortunately was cloud covered but there are huge snow fields on the east side giving a decent descent to Stob Coire Bhealach and the promised land.
Finding a campsite up top was not easy though and in retrospect finding a pitch in the corrie might have been a wiser choice but I wanted to enjoy the views up top and didn?t fancy a first descent in shade and ice with a big back pack. First run in the afternoon was good from SCB col though the entrance which doesn?t catch the sun was steeper than the guide suggested but was fine once you made the commitment. There followed an ice axe ascent up the Bhealach Face (steeper) but good sport!
A further route was planned in the evening but food etc. took a while in relentless wind with clouds closing in on The Ben so I decided to call it a night.
Blue skies returned in the morning after a bit of a wild night with options to return over Aonach Beag or to have another ski down the face and traverse around Aonach Beag to Summit Gully Col. Aonach Beag is huge and with full snow cover and skins was enjoyable with no shortage of interest until arriving at the foot of An Cul Choire which looked in such great shape with snow down to the burn so I decided to ski that too (from the wee loch) which was completely snow covered with the upper section of the corrie in the shade and held steadfast in deep winter.
A long climb /skin followed to Summit Gully Col in baking heat and soft snow but with Stob an Cul Choire (The Far Side) beckoning I thought I?d ski that too heading to the foot of Braveheart (which was off) so a bit more climbing followed to Rob Roy, The Great Glen Chair and lunch 
In summary then snow cover is fairly complete but think a camp is needed to make the trip worthwhile also probably better in a couple of weeks when the sun will reach the whole face and not just Rough Couloir which looked inviting and I?m regretting not skiing.

:: Weather Conditions
Unrelenting wind up top esp overnight, otherwise mainly sunny particularly 9/4. Remaining cool out of the sun
:: Snow Conditions and Distrubtion
Icy in places in the shade and soft in the sun. Best on N facing slopes
:: Skiers/Riders
Freeheel
:: E-Mail Contact
gordon dot simpson at btinternet dot com
Posted by:
Freeheel
at 20.54hrs on Sat 19th Apr 14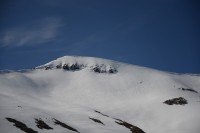 • View Photos •
:: Tour Route(s) or Location Skied/Ridden
Aonach Mor by the lifts with a ski over to the An Cul Col, then down Vallee Verte and up CMD ridge to summit. Descent by Summit Bowl, skiing till snow ran out then a walk by the burn and finally a wee hike back over the hill to Nevis Range and lunch!
:: Weather Conditions
Bluebird, def hotter than yesterday maybe by 5c
:: Snow Conditions and Distrubtion
Vallee Verte interesting! Ridge to top of CMD great condition and could skin almost to the top. CMD bowl was fantastic great spring snow with a wee ice layer high up in places 10 out of 10 all day long.
:: Skiers/Riders
Freeheel
:: E-Mail Contact
gordon dot simpson at btinternet dot com
Posted by:
Freeheel
at 07.37hrs on Sat 19th Apr 14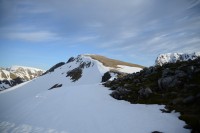 • View Photos •
:: Tour Route(s) or Location Skied/Ridden
N.W. ridge of Carn Mor Dearg from the gondola
:: Weather Conditions
Pleasant with evening sunshine until sun slipped into Atlantic cloud bank c7.30pm. Snow began to crisp up when the sun went down temp 6c back in the carpark 9.30pm
:: Snow Conditions and Distrubtion
Some good parts but also a fair bit of cornice skiing between Meadhonach and just N of summit. Great cover in the bowls esp summit bowl
:: Skiers/Riders
Freeheel
:: E-Mail Contact
gordon dot simpson at btinternet dot com