touring & backcountry
Posted by:
Guest at 18.48hrs on Mon 20th Feb 06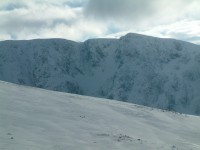 • View Photos •
:: Tour Route(s) or Location Skied/Ridden
Carn Mor Dearg, climb to the corrie at the Carn Beag Dearg part, and snowboarded down to the valley floor.
:: Weather Conditions
Cloudy with sunny spells, summit tops in clouds with occasional breaks. Freezing level around 500m
:: Snow Conditions and Distrubtion
Good cover of soft deep snow down to around 800m with scattered rock patches, below became much thinner and rockier but still made it to valley floor at about 600m but heather hoping involved alot. Overall only hit one rock whole run so was happy.
:: Skiers/Riders
Doug, Jamie, Dave
:: E-Mail Contact
s0341430 at sms dot ed dot ac dot uk