touring & backcountry
Posted by:
Apex177
at 17.59hrs on Tue 12th Feb 19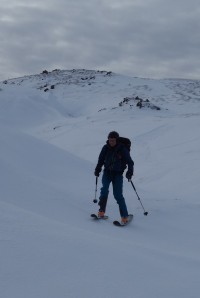 • View Photos •
:: Tour Route(s) or Location Skied/Ridden
Carn Liath from Laggan road to Garva Bridge. Starting from an altitude of 300m we had a 50 min carry to 550m. There are some unusual gullies on the ENE ridge of Carn Dubh from 550m to 700m to catch snow and provide entertainment on both the way up and down. There were good views into the two coires to the south and on to Creag Meagaidh. We had a quick rockless 2km schuss back from the summit.
:: Weather Conditions
Monday was a cold bright day with minor winds.
:: Snow Conditions and Distrubtion
Neve at higher levels. No breakable crust at any level.
:: Skiers/Riders
Eagle Ski Club party