touring & backcountry
Posted by:
Apex177
at 19.36hrs on Wed 6th Feb 19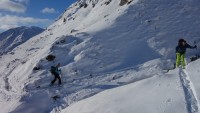 • View Photos •
:: Tour Route(s) or Location Skied/Ridden
Creag Coire nan Each, part way to Mam Sodhail from Strawberry Cottage Glen Affric. Ascent and descent by slightly obscure ramp on south side of Creag a Chaorainn.
:: Weather Conditions
Bright with 25mph wind on upper mountain.
:: Snow Conditions and Distrubtion
Good cover down to road level. The winds of the week prior blew much of the snow off the tops onto the lower ground. Freezing throughout. River Affric had a thin skin of ice.
:: Skiers/Riders
Eagle Ski Club Party