touring & backcountry
Posted by:
Apex177
at 20.27hrs on Sat 6th Apr 19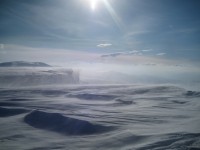 • View Photos •
:: Tour Route(s) or Location Skied/Ridden
Up to 1141m on Fiacaill Choire Chas and round to Lurchers
:: Weather Conditions
A late start avoided the harsh morning weather although winds still 35mph on occasions. Sunny
:: Snow Conditions and Distrubtion
Many leeward slopes blown clear of fresh snow and lots of sastrugi. I am told that fresh snow is blown away in a 10mph wind and bonded snow requires a 55mph wind. The snow in Lurchers was very difficult to turn on. I started my descending traverse to the car park at 900m.
:: Skiers/Riders
AS