>>> IMPORTANT - Partial forum password leak - please read the
update
. <<<
touring & backcountry
Posted by:
Apex177
at 21.20hrs on Mon 10th Dec 18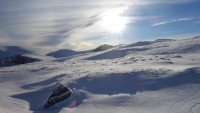 • View Photos •
:: Tour Route(s) or Location Skied/Ridden
Cairngorm, South to top of Coire Raibeirt, then back up Cairngorm and down Ciste Mhearad.
:: Weather Conditions
Minus 2 at 900m according to Mwis. Wind below 15mph. cCouding up a bit in afternoon.
:: Snow Conditions and Distrubtion
Skis on at bottom of Shieling Poma. Good snow above 900m.
:: Skiers/Riders
AS