touring & backcountry
Posted by:
Apex177
at 22.24hrs on Tue 18th Apr 17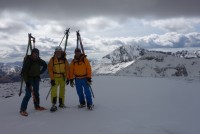 • View Photos •
:: Tour Route(s) or Location Skied/Ridden
We were missing a last day out with the end of the winter coming early so we decided to go hunting for snow anyway. We had a fantastic day out though it was a long way to the snow. We carried from the Nevis Range gondola station round to Coire an Lochain. We had in mind to ski the gully south from the col between Stob an Chul Choire but there was no snow. We enjoyed a boot up the ridge beside Summit Gully and stunning views from the summit. Funnily enough we had the slopes to ourselves for the return through the ski area.
:: Weather Conditions
Dry, clear and mainly sunny
:: Snow Conditions and Distrubtion
The snow for the downhill was great. We could have done with more early in the day!
:: Skiers/Riders
Eagle Ski Club Party