touring & backcountry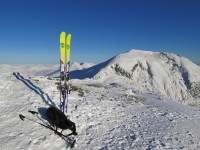 • View Photos •
:: Tour Route(s) or Location Skied/Ridden
Lawers group from the NTS carpark. Skiied Beinn Ghlas, Meall Corranaich and Meall a Choire Leith.
:: Weather Conditions
Blue skies and light winds.
:: Snow Conditions and Distrubtion
Snow cover above 600m. Tussocks showing through in many places. Some south facing slopes had a thicker layer of windblown snow. I was able to do almost the whole route with skis on.
:: Skiers/Riders
Tom Rowntree
:: E-Mail Contact
tomrowntree at hotmail dot com