touring & backcountry
Posted by:
alan
at 01.47hrs on Fri 6th Jan 06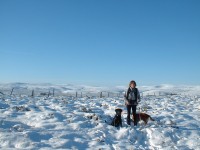 • View Photos •
:: Tour Route(s) or Location Skied/Ridden
Some trails skiable.
:: Weather Conditions
Blue sky and sunshine!
:: Snow Conditions and Distrubtion
Thin cover, but good quality snow. Thanks to Telemarker for these photos. This report has been posted to get things started!