Posted by:
Moray
at 22.34hrs on Mon 3rd Dec 18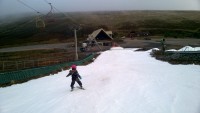 • View Photos •
:: Snow Cover
Limited Terrain Complete/Open.
:: Surface Conditions (out of 5)
4
:: Weather Conditions
Intermittent sun
:: Snow Conditions & Info
Full width cover on the run served by Wren magic carpet. Nice snow conditions on the snowfactory made piste. Ideal conditions for the 3 year old starting out : -) Great to have the opportunity to ski so early in the season.