Posted by:
Skicadets
at 21.27hrs on Sat 28th Apr 18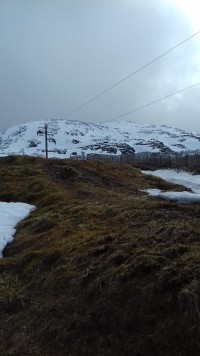 • View Photos •
:: Snow Cover
Mostly Skiable - Some Areas Thin/Narrow
:: Surface Conditions (out of 5)
4
:: Weather Conditions
Mainly sunny but some light snow showers bubbling up in the afternoon. Felt warm and above freezing in the sun but temperature dropped significantly during showers. The cosmetic snow on the mid mountain was melting but there wasn't much if any up in the Main Basin

:: Snow Conditions & Info
Snow cover improved for the most part last weekend except from on the Plateau where now only the Poma uptrack and Old Mugs Alley are complete. The snow was a mix of fresh, spring snow and some firmer areas. Best snow was on the upper mountain.
:: Riders
skicadets