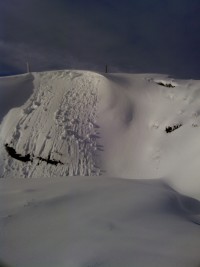 • View Photos •
:: Snow Cover
Most Terrain has Good Cover.
:: Surface Conditions (out of 5)
4
:: Weather Conditions
Some wind, dropping considerably as the day went on. Lovely light initially, with the sun breaking through thin clouds in the a.m. before giving up, as the cloud thickened later and flat light won out. The positive aspects of these two variables, travelling in opposite directions, combined with melt and traffic making the tow easier to ride, created a very pleasant hour of sliding just after we took lunch in the Mountain Restaurant.
:: Snow Conditions & Info
Lots of wind-blown powder and crusty snow dunes actually made it harder than usual to ride the lengthy rope tow but provided some fun bouncy carving.

Road from Alston passable with care and a fair amount of good fortune. Although some people opted for 4 wheel drives, chains or at least snow tyres. Return journey nearly all tarmac.

With both Weardale and Yad Moss restricting access to members, with the latter also prepared to admit those who hired kit locally, it was an easy choice for me today. Harwood remains a real Gem in English skiing. It is simple, marginal and not for the casual alpinista. A fantastic place to spend time, even on a bad day and today was not a bad day.

Many thanks to all the hard working people at Harwood who made today possible. What you did today has real worth and as ever is much appreciated.
:: Riders
30 - 50 members and grateful day guests including me and the Powder Puppy.
Report Edited Once. Last edited by Imsoboardwiththeewesa: 2013-01-26 22:07:47