touring & backcountry
Posted by:
Horseye
at 13.32hrs on Thu 15th Mar 18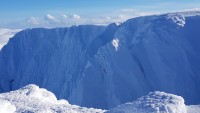 • View Photos •
:: Tour Route(s) or Location Skied/Ridden
From Glenshee to Invercauld taking in Lochnagar
:: Weather Conditions
Very cloudy initially, leading to doubts whether we would attempt the route. But cleared up, and ended up glorious. Cold, windy. FL well below summits.
:: Snow Conditions and Distrubtion
Lovely! Dry, light, windblown but not scoured. Snow level all the way down into the valleys at Glenshee and Deeside.
:: E-Mail Contact
snow at horseye dot co dot uk
Report Edited 2 times. Last edited by Horseye: 2018-03-15 13:52:42