Posted by:
Skicadets
at 18.45hrs on Sun 29th Apr 18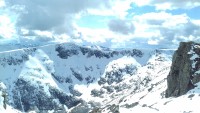 • View Photos •
:: Snow Cover
Mostly Skiable - Some Areas Thin/Narrow
:: Surface Conditions (out of 5)
4
:: Weather Conditions
Sunny, nice weather and dry except from an odd hint of snow after lunch. Got pretty warm in the afternoon - warm enough for t-shirt skiing
:: Snow Conditions & Info
Fresh snow overnight improved the conditions although the off piste was baseless and you had a reasonable chance of hitting a rock. Possible to ski the Plateau runs although they were combat. A great day of spring skiing.
:: Riders
skicadets