you report it! // public reports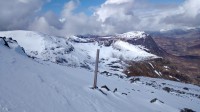 • View Photos •
:: Snow Cover
Most Terrain has Good Cover.
:: Surface Conditions (out of 5)
4
:: Weather Conditions
Clear weather conditions dominated through most of the day, with the occasional light snow shower closing in from the West, but visibility was always excellent. The showers eventually burned off at the end of the day, raising the temperature from just below freezing in the morning to 4-5 degrees by the afternoon.
:: Snow Conditions & Info
Snow cover was generally fantastic. The upper mountain was loaded with a mix of fresh skier-packed snow higher up and soft granular snow lower down. Happy Valley was by far the pick of the day with skier-packed powder on a firm base. Main Basin was also good, but less packed and rather hard on the knees on the way down. Spring Run was soft and fully loaded, though heavy in the bowl. Mugs Alley was mostly full-width, but the snow was also somewhat heavy and sticky with the occasional unexpected hole. Plateau run was just about passable until the last 50m, but very heavy and wet with narrow sections.
:: Riders
Callum and Chris
:: E-Mail Contact
callum dot mccolgan at gmail dot com